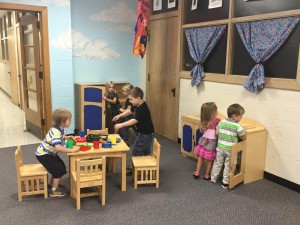 The first week of registration is for families currently enrolled at the preschool.  The second week of registration is opened to the public. A physical form and the required immunization card are given out at registration time.  The other required forms and information are distributed in late July.
A non-refundable $30 registration fee per semester is required either at the time of registration and again in December or a one time registration fee of $50 may be paid at the time of initial registration.
2022-23 Registration
Fall Registration will take place beginning Monday, February 14th.
Current Families will have the opportunity to register beginning Monday, February 14th and then we open the registration to the public beginning Monday, February 21st.
Admissions-Eligibility
St. John Christian Preschool makes no discrimination in admission or determination of enrollment on the basis of race, creed, color, sex, national origin, religion or handicapping condition.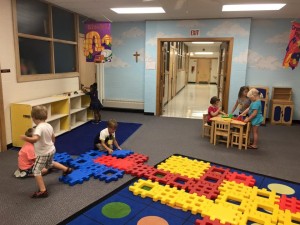 A child must be 3 years of age by September 15 (and toilet trained) to enroll in the 3/4 year old program and 4 years of age by September 15 to enroll in the 4/5 year old program.
Your child may experience a period of adjustment when beginning preschool.  If this adjustment is difficult, the staff and family can meet to discuss any special considerations related to special needs, goal setting or other concerns that may influence success for your child.  If your child is not yet ready for the group experience or if his/her needs are not met in the group setting, we may ask to dismiss your child.  We believe the child should not remain in school unless he/she derives some benefit or positive experience from the program.